Bid for a unique Samantha Ellis Cross Stitch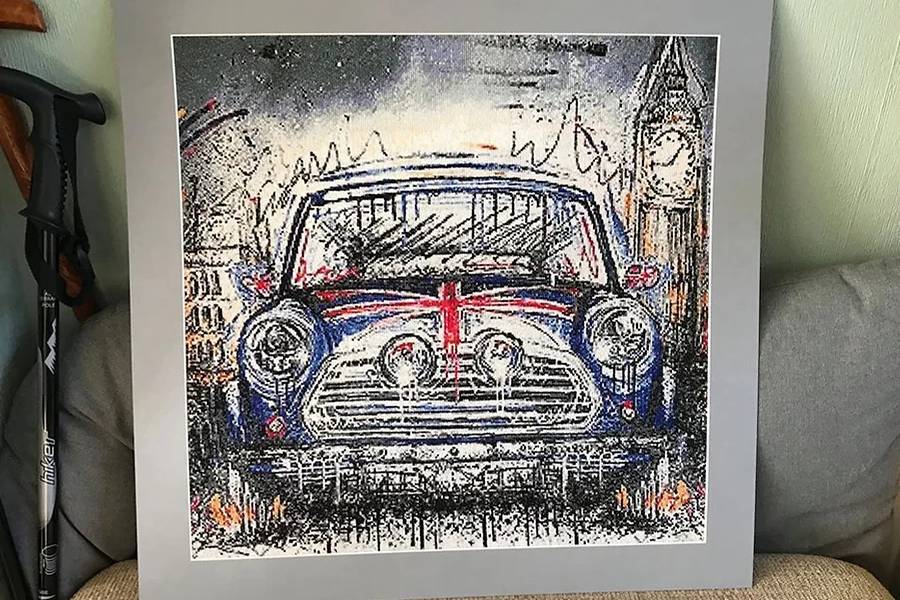 Our amazing Jobber, Pauline 'X Stitch' Russell has completed her latest cross stitch masterpiece and it's up for grabs via an Italian Job auction. All proceeds will go to our nominated charity, Buttle UK.
Pauline's latest work is an interpretation of an original Mini painting from celebrated artist, Samantha Ellis. The unframed size is 24 x 24 inches and contains over 78,400 stitches, each carefully done by Pauline. It took over 10 months to complete and looks absolutely amazing in the flesh, like all Pauline's Cross Stitch's do.
Samantha Ellis is a well known Cambridgeshire based artist who specialises in cityscapes, dogs and of course cars. She has a particular passion for Minis and she paints in a unique and very distinctive style, which makes her work incredibly sought after.
Samantha generously gave Pauline permission to reproduce her original artwork called 'Mini Adventure' as a fundraiser for the Italian Job. Please note we have had an opening bid of £300.00.
To place a bid please email gsg@italianjob.com or by clicking here and enter 'Pauline's Cross Stitch Auction Item' in the subject line. Please ensure your bid is included. This auction will close on Christmas Eve 2019. Thank you.