Diary from the #IJ2023 – Day 12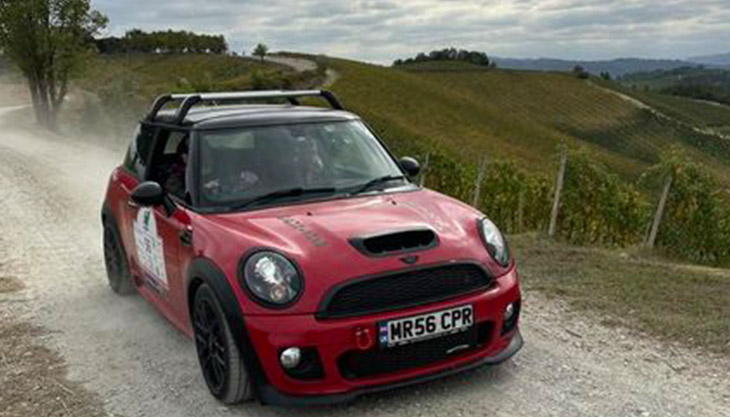 Monday 16th October – The final day of our navigational event
It was a lazy start to proceedings today, with the first team away at around 9.45am in order to arrive at the finish line at precisely 12.30! I think everyone appreciated that lie in! The Skipper and Julie headed off first to get to Tenuta Il Cascinone (part of the Araldica organisation) as the advance party. In IJ terms, Advance Party means parking in as prominent a position as possible and hoisting aloft one of our IJ Sail Banners. When seen from a distance this sail banner acts like a beacon and attracts Jobbers from literally all directions.
Teams had just over 60 miles to navigate on an intricately planned route that would take them deep into wine-making bandit country. It was the longest single route in the road book (lots of pages) and consequently had the most instruction boxes too. These two factors alone increased the potential for teams to score high on the 'cock it up scale'! Add into the mix the ever present human factor (aka drivers and co-drivers) and the opportunity for teams to go wrong rises to 'off the planet' levels. So it was doubly important for us to see teams emerging from the distance and crawling along to the time control point (no matter how early). My heart nearly skipped a beat (in joy) as eventually (and still with 35 minutes to spare) I spotted Team 07 Tim and Szanna followed shortly thereafter by everyone else.
Trina in Team 37 (who has been coming on the IJ since she was a mere slip of a girl) messaged the WhatsApp group asking if anyone could supply here with a What3Words reference for our lunch stop at Il Cascinone. I almost replied with yeah … use.your.roadbook but I didn't (I restrained myself) and sent her instead my current location with we.are.here! She arrived (incredibly still with time to spare) from a completely different direction to everyone else in her banana yellow Cabriolet with a big smile on her face. However Sharon her co-driver tried to hide behind her hands (sill laughing) but clearly aware that as co-driver she had indeed scored a perfect 10 on the 'cock it up scale'. But no matter. They were smiling as were we (for different reasons of course) so all was good.
An extravagant (I mean big) and delicious buffet lunch was served outside containing a feast of typically Piedmontese foods. By this time the sun was starting to come out and warm the first chills we've had since the start of this years Job! It was 14° early on. With bellies now nicely filled we enjoyed a fascinating insight into the world of wine-making in this region delivered by the main man at Il Cascinone John Leech (for a man with such an Italian name his English was incredible). John and his crew also prepared a goodie bag for everyone to take away as a souvenir of our lovely day at Il Cascinone. I know this was much appreciated by teams.
We had a special stage to advise teams about, which I did as soon as the applause that followed Italian John's tour and talky bit ended. This final special stage of the #IJ2023 (and possibly the final defining element which could be the deciding factor that determines the overall Navigational Event winner) would require teams to traverse a course between two points in a specific time (that's the scientific explanation). In layman's terms it meant that teams had to drive through one set of bollards to another set of bollards (just out of view) in 61 seconds! Kenjay assumed his now default position at the finish line (which for reference was 500 metres away from the start on a dusty gravel track). I joined him to man the radio and the fun began. All teams (with a couple of notable exceptions) did their best not to create a massive dust cloud as they rolled along. One in particular though (but I name no names Julian and Sam in Team 19) motored through at such speed that I fear Kenjay's brogues might need a double strong shoe shine!
It really is worth noting that after 8 days of doing this stuff, most teams now seem to have got to grips with these special stages. The timing results on this final stage were very tight indeed and have influenced the final leader positions. The final classifications will be announced at our dinner on Tuesday evening. We haven't shared the classifications with teams since day 2 in Siena so tensions are rising. I sense that the teams who initially declared 'you know what Freddie, I'm not taking this navigational event seriously' might actually be now.
Tomorrow (today, at the time of writing) we have a morning of leisure followed by an afternoon of pleasure as we convoy through Turin under police escort. We're stopping off at a number of places in Turin but none more important than the Regina Margherita Children's Hospital where teams will deliver presents and toys. Our jobbers really are an amazing bunch.