Diary from the #IJ2023 – Day 2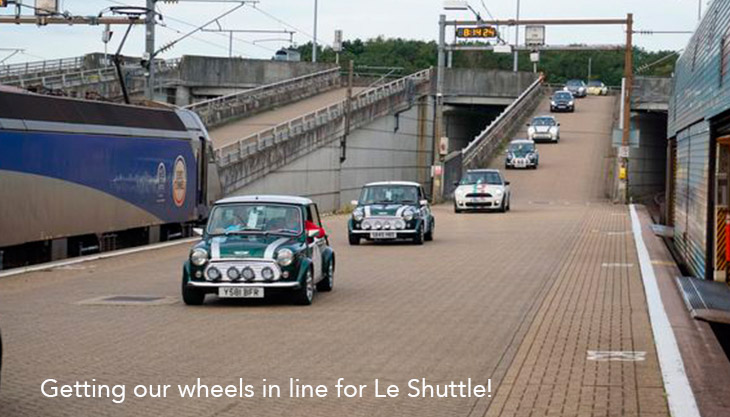 Friday 6th October – Departure day
Thankfully for us, Emma Horsley from LeShuttle's Social Media & Content team pulled the proverbial rabbit out of the hat, by helping to make our departure from Folkestone very memorable. She and her colleagues papped us and videod us boarding and disembarking the train. They've shared some across their channels. Do check out them out please at @LeShuttle.
The 35 minute train ride was uneventful but for the official opening of Kenjay Savvys mums delicious Rice Crispie Cake. (a long standing tradition) In certain parts of the world this stuff is currency! Thank you Marge Mason mother of Kenjay Savvy for once again supplying us with giant Tupperware containers filled with bricks of the sweet stuff.
Arriving in Calais was memorable thanks to the need to replace a severely chewed fan on the 1970 Bronze Yellow Cooper S. Thankfully a spare fan was to hand but it's one of those really tricky and fiddly jobs with very little access room. A job where only the daintiest of hands with slender fingers can fit into the tight spaces to undo and then tighten various bolts. Step up to the plate Bryan Helyer who has been blessed by nature with pianists hands and a seamstress's fingers. He overcame the space restrictions with skill, finesse and dexterity and helped fix the new fan in place. Nb: Bryan actually bled as a result of his stoic efforts to assist but he didn't complain and he flatly refused the plaster offered to him. With a dirty oily rag he just wiped the blood away and carried on. #HeroBryan
Today was a paperwork kind of morning for the service crew who had to endure (1) the indignity of missing the train, though it wasn't their fault and (2) the stress of queuing at a French customs shack (without looking at all guilty of anything) so that a French Customs Officer could expressionlessly but aggressively rubber stamp the Customs Carnet we now need to have. This Carnet is a great wodge of expensive paperwork that has it seems been created solely so that French Customs Officers can practice and perfect the art of rubber stamping.
A few minor mechanicals were dealt with today and these were low clutch pedal issue on Tim Hunt's W&P and a wheel bearing in Team 45 driven by Paul Denning and his husband Mark Grubb. Both were dealt with deftly by the service crew.
I retired early tonight leaving many teams to enjoy the particularly gassy and frankly tasteless beer of the area in the highly overrated CockPit Bar of the hotel.
All in all the first day proper has been fun. Five and a bit hours of driving through France, Belgium, The Netherlands and Germany. Tomorrow I head straight through to Austria and Italy with Kenjay Savvy and the Rice Crispie Cake whilst the rest if the teams Pit Stop in Munich (where the beer tastes better and is far lass gassy).
Must mention how much BishBashBash is missed…. I raised a glass of tasteless, gassy beer but couldn't finish it Graham… Sorry !