Diary from the #IJ2023 – Day 3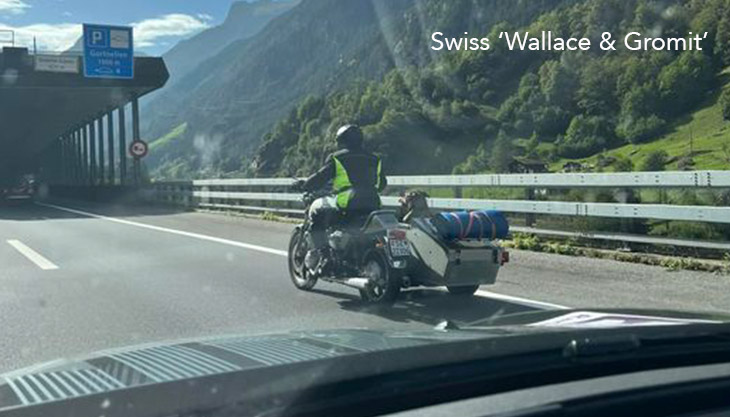 Saturday 7th October – Lets get out of Germany!
The teams today headed to Munich from the Nurburgring… but not Kenjay Savvy and me. We pointed our car to Imola and our first basecamp for the #IJ2023
We woke super early and met for breakfast where we happened by chance to join and chat with team 'Jeff The Good' (an aerodynamicist from Cheshire ) and 'Steve The Bad' (a lawyer from Guernsey). After a lively exchange we made our excuses and bolted. We had 1031 kilometers to cover today, most of which were in Germany and German speaking Switzerland. We paid our extras and exited the rammed car park and headed out on our long journey.
We enjoyed our first Werther's Original of the day (a gift from my thoughtful Daughter No 2) … for extra clarity we had one each, we didn't share one. I invaded a Tupperware container of Rice Crispie Cake and tucked in to two very solid bricks. Sugar rush started. It was at this point that I was informed by Kenjay Savvy that Kenjay Savvy's mother's name is Marj and not Marge (a butter like spread) as I had mistakenly referenced in previous dispatches. If you're reading Marj (with a definite J) please acknowledge so I know the Rice Crispie pipeline is secure for years to come. The Italian Job needs your support.
I started the day thinking we were heading to Austria and the Brenner pass but my Sat Nav and What Three Words had other ideas and colluded to set us us on a course for Schweiz!
Kenjay drove and drove (he is a machine) and got us to Switzerland (aka 'RipOffland') where we were 'persuaded' at gunpoint and threat of incarceration to part with €45 hard earned Euro's for a Swiss Vignette (the plus is it's valid for the rest of the year ….great!) The Swiss guy who sold us the Vignette helpfully gave me a 5 Swiss Franc coin as change and suggested we buy some Swizz chocolate with it. I saw through this ruse instantly and pocketed the coin instead! I like Swiss chocolate less than the tasteless gassy beer of the Nurburgring! (Does anyone want a 5 Swiss franc coin?)
The UNEXPECTED BIG WIN of the day was the Gotthard Tunnel…. It's free which was a big surprise and it kind of justified the the extravagant expense of the Swizz vignette.
From Gotthard, we dropped down to Milan (where the driving standards deteriorated almost as rapidly as the quality of the tarmac on the road) and we headed south to Bologna, Ancona and Imola.
11 hours after we set off and 1031 Kilometers later we pulled into the Molino Rosso Car park in a balmy 26.5°. We dumped the wheels, emptied the boot and mustered inside with our good friends Aperol and Spritz (an emotional reunion with dear friends of the Italian Job). We quickly reviewed the road books and dropped Giorgio (our contact in Forli) a Whatsapp. We'll rendezvous with him tomorrow to go through last minute changes to our routes.
Tired, mildly drunk (after a tasty meal and local wine) and ready for bed is how I salute you one and all this evening. To the DELTA team in Munich I say I hope you fared well !
ps: Passed a Swizz Wallace and Gromit today. Pic attached! … It's a dog wearing goggles in the side car.