Diary from the #IJ2023 – Day 4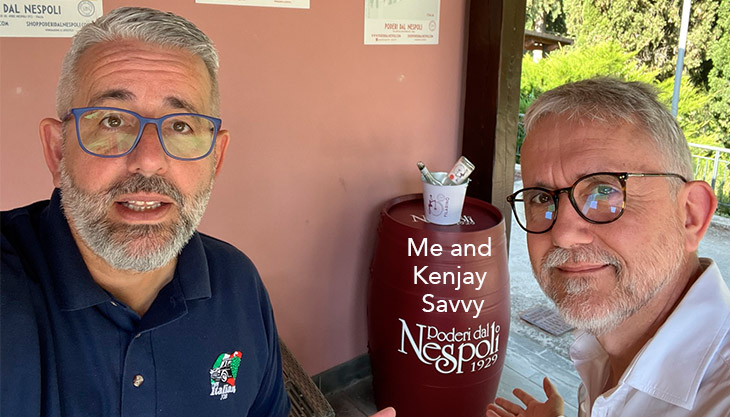 Sunday 8th October – Before the main event comes the practice
Kenjay Savvy and I spent today doing the mundane stuff of checking the three routes we could here in Emilia Romagna. The process was simple. One of us would drive whilst the other would navigate using the newly acquired roadbook.
We arranged to meet Giorgio Picchi '500 yards further on from Page 7, Box 11 of the roadbook. Picchi doesn't speak in words of any language. He speaks in road signs, distance markers, road numbers and tulip design instructions from roadbooks. He grunted in a text message that we should message him to advise what time we would leave the hotel. We did so. From that message he knew precisely what time we would arrive at the rendezvous point. Seconds after we pulled up the tiny electronic handbrake of the Clubman, Picchi appeared out of nowhere and started shouting. He simply cannot speak quietly.
We were alerted to a few matters that might require attention and then as quickly as Picchie emerged he vanished and that was sadly the last we saw of him. He has been a loyal and faithful servant to the Italian Job for many years and he really was a brilliant cart man.
Kenjay and I cracked on and found no issues with any of the planned routes. The temptation to finish early and blag it was strong (having had 12 hours in the car yesterday) but we didn't falter or deviate from the task in hand and we stuck at it diligently. We saw it through to the end and covered all the miles the teams would do over the next three days.
We eventually got back to the hotel and were pleased to find Giulia, Paola and Gordon had arrived from Gatwick to Bologna. We also saw a few teams were arriving (pretty early) in the dazzling Imola sunshine. They had journeyed down and through the stunning Brenner Pass from Munich into Austria and then Italia.
I went off to Bologna to pick up Graham from MINI UK / BMW Group around 7pm. It's only 35 minutes drive but I was at this point more than a little done with sitting behind the steering wheel. Plus I forgot that driving a Right Hooker (alone on my way there) meant I would have to either slide (elegantly and with poise) across the drivers seats at the toll booths to lean out to collect a ticket / pay or get out of the car completely, run round to the other side to collect the ticket or pay and then dash back to the drivers seat to drive off. The already low patience levels of the average Italian, who finds themselves momentarily and inexplicably delayed (for a nano second longer than is universally recognised as acceptable) at motorway toll booths reduces even further quickly and drastically. Pressure was on but I didn't buckle and simply waved at the first honk of a horn.
I met Graham no problem and we drive back …. He looked after the toll booth ticket collection and payment without enraging any Italians.
After 25+ years of knowing Graham, this was the first time he had managed to join us in Italy for an Italian Job Event. We were delighted that he was there and that he would be with us until we left Emilia Romagna for Tuscany.
That evening we enjoyed a simple but tasty supper in the main restaurant of the Molino Rosso. I retired early and left the rest of the organizing team and jobbers saying more prayers to Aperol of Spritz. There was a big day ahead tomorrow with more driving and doubtless lots of running around so a good nights sleep trumped the temptation for free poured drinks in the bar.